fi360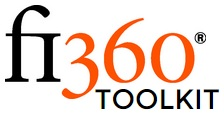 Victory Wealth Partners utilizes, fi360®, an industry leading fund monitoring and reporting software program to provide the most accurate investment information to our investors.
Fi360® helps its clients gather, grow, and protect assets through better investment and business decision-making. Since 1999, fi360 has been providing innovative solutions to financial services providers, including the AIF® designation programs, the fi360 Fiduciary Score".
The fi360® Toolkit for Advisors is a web-based investment software solution that provides the analytical, management and reporting features needed to manage and document a prudent investment process – one of the cornerstone tenets of fiduciary duty – through a turn-key system that is easy to use, easy to replicate, and easy to understand.
Why use the fi360 Toolkit
The fi360 Toolkit generates reports that are simple and easy to interpret allowing you to communicate to prospective clients in terms they understand.
Increase efficiency with a repeatable investment monitoring process
The fi360 Toolkit enables you to build, track and document portfolio decisions over time to help meet industry best practices and fiduciary principles. It allows you to create custom investment policy statements that integrate with reports saving you valuable time and money.
Evaluate investments quickly with a single number using the fi360 Fiduciary Score®
The fi360 Fiduciary Score is an easy-to-use and easy-to-understand scoring system for investment selection and monitoring. It's objective and repeatable, letting you communicate the status of your clients' investments from an independent source.
Save time by utilizing fi360's integration with major custodians
fi360's integration with major custodians allows you to easily manage client accounts and upload data seamlessly.